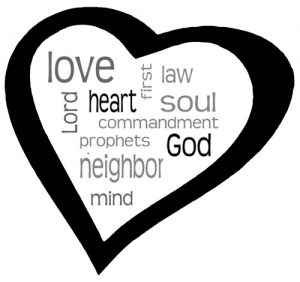 This week's memory verse:
"And this is his command: to believe in the name of his Son, Jesus Christ, and to love one another as he commanded us." -- 1 John 3:23
This morning, I feel extra blessed because I am beginning another 12 week Bible study. When I am participating in regular study, I have somewhere to focus my thoughts, and I am directed to study God's word. It also gives me something to write about that is not coming right out of my own musings, but out of my thoughts on God's word. I love sharing that with you!
Today's lesson is all about obeying God's commands. While the old testament has MANY laws and rules to follow, 1 John 3:23 (our memory verse this week) makes it pretty simple. We are to believe in Jesus and love one another.
Jesus himself teaches the very same idea. When asked what was the greatest of God's commands, he replied:
"'Love the Lord your God with all your heart and with all your soul and with all your mind.'
This is the first and greatest commandment.
And the second is like it: 'Love your neighbor as yourself.'
All the Law and the Prophets hang on these two commandments." (Matthew 22:37-40)
Going back to the Old Testament for a moment, Deuteronomy 7:12 says that when we obey his commands, he will keep his promises, his covenant made long ago. And Leviticus 26:3-13 lists many specific ways God will bless those that keep his commands: He will make the ground plentiful and we will have plenty to eat; he will bring peace to our land; he will walk with us and will not turn away from us.
Jesus reinforces this in John 15:10 when he states: "If you keep my commands, you will remain in my love, just as I have kept my Father's commands and remain in his love."
So, how will we know when we have fulfilled God's law of obedience? Romans 8:13 says, "Let no debt remain outstanding, except the continuing debt to love one another, for he who loves his fellowman has fulfilled the law."
When we love our fellowman, we have fulfilled the law. This makes it sounds so easy. Love one another...is that all it takes? But...we all know, loving one another is NOT that easy!
When I think of God's commands, I think of the 10 Commandments. If you look at what Jesus said about the greatest commandment, and then look at the 10 commandments, you will see they all go together! All 10 of those commands are about loving God and loving one another!
The first 4 are all about loving God: no other gods; no worshiping images; not misusing the name of God; keeping God's sabbath day holy.
The rest are all about loving one another: honoring your parents; not killing, stealing from; cheating on, lying about or being jealous of your neigbor.
That may be a simplified way of thinking, but I never thought about it that way! No wonder Jesus said we were to love God and love others! That's what God told us from the very beginning!
Dear Father God,
Today, in EVERYTHING I do, help me to keep your commands...help me to show my love for you, my love for Jesus and my love for others. In that way, you will see my obedience and I will feel you with me, keeping your promises to me. Please allow me to have and feel that reassurance today. Amen.